By Nna Anulumadu
It was celebration galor at Christ De King Parish Onitsha, last Saturday, November 11, 2023 as parishioners and friends of the parish gathered in their large numbers to celebrate golden jubilee of the existence of the parish.
The historical event attracted the presence of the Chief Shepherd of Onitsha Archdiocese His Grace Most Rev Valerian Okeke and other respected dignitaries.
In his homily during, Archbishop Okeke described jubilee as a time of thanksgiving, liberation and forgiveness. He stated that thanksgiving would only be effective when we forgive one another, adding that real thanksgiving / gratitude should be capable of changing one's life. Emphasizing on the need for forgiveness, hec cited a beatitude – Blessed are the merciful for they shall receive mercy. He enjoined the parishioners not to let the blessings and grace of the jubilee to elude them.
In a welcome address, the Catholic community rained accolades on the prelate for the  visit and for celebrating with them. They also extolled the Archbishop for his transformative accomplishments in the Archdiocese describing him as great achiever. In special way, the parishioners appreciated he efforts of their parish priest Fr Joseph Umeasiegbu describing him as a workaholic priest who has transformed the parish within a short period of stay, testifying that their spirituality has been boosted. Others they commended are the past parish priests and vicars for their significant contributions towards the development of the parish.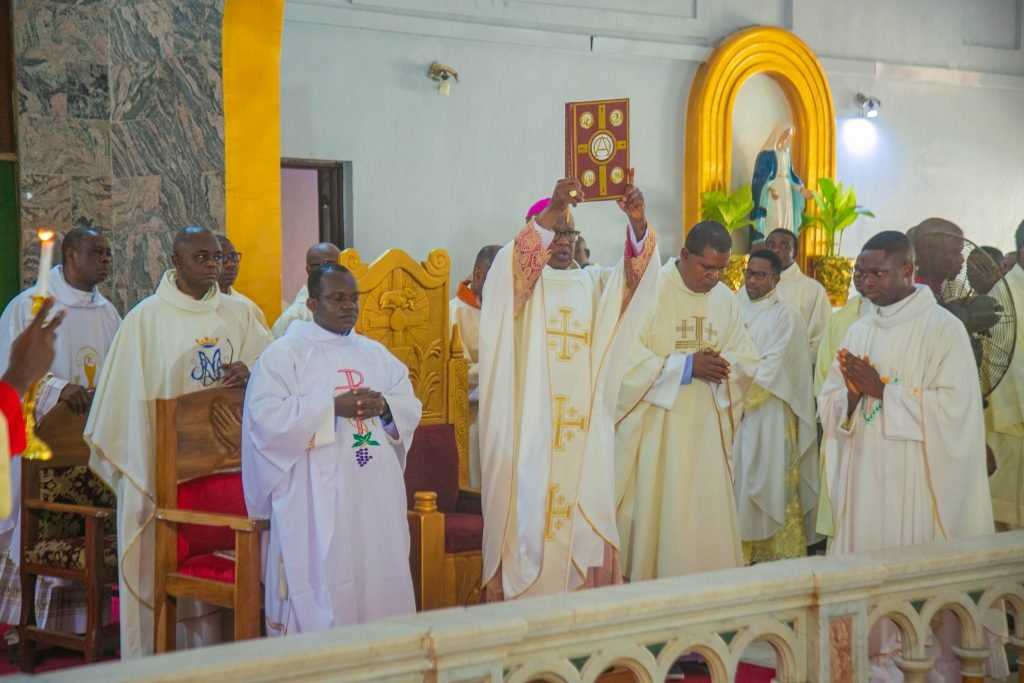 Responding, Archbishop Okeke extolled the parish priest Fr Umeasiegbu for his sincere commitment in moving the parish forward and for maintaining status que ante, urging him not to relent. He also commended the parishioners for their show of faith that brought the parish this far.
The parish priest Fr Umeasiegbu in appreciation poured encomiums on the prelate for rejoicing with them, stating that his encouragement and assistance are really motivating them to move forward. He further thanked his parishioners for their supports and cooperation, charging everyone to tap from blessings of the jubilee.
The parish council vice chairman Mr Charles Onochie who spoke to Trinitas expressed great joy over the event, disclosing that the parish has produced others parishes. He also praised the parish priest for coasting the parish to the promise land.
Also, the planning committe chairman Ndive Ignatus and Odinaka Anikwacha in their similar remarks said they are excited to witness the jubilee celebration. The duo also rained accolades on the parish priest for his litany of achievements within one year of his arrival.
Earlier in the Mass, over 200 hundred candidates received sacrament of confirmation.
Appreciating of some parishioners with merit awards and cutting of the jubilee cake formed the high points of the occasion.