*Parish set to celebrate golden jubilee
*620 candidates confirmed
By Nna Anulumadu/ Obum Okakpu
The parish priest, parish vicar and members of St Charles Lwanga parish New Haven, Okpoko, on Sunday October 8, 2023, rollout out their drums to receive the Chief Shepherd of Onitsha Archdiocese His Grace Most Rev Valerian Okeke who paid a one day pastoral visit to the parish.
The colourful event witnessed confirmation of 620 candidates.
Special dignitaries in attendance include Senator Tony Nwonye, Hon Paschal Aniegbunam and the rest.
In his Homily, Archbishop Okeke charged Christians to bear good fruits in the world. According to him, God has endowed us with so many gifts and such gifts he said should be used in bearing good fruits.
" As a parent, it is your duty to train your children not just in education, but in Christian way so that they can grow in the knowledge of God and ensure they receive sacraments of the church as when due and by doing so, you are already bearing good fruits. Children who are obeying their parents are bearing good fruits. Therefore bear good fruits in your home, place of work, and in your business by doing the proper thing", he advised. The prelate also emphasized the need for we Christians to hold tenaciously to Blessed Virgin Mary through saying holy rosary frequently.
In an address, the parish eulogized the local ordinary  for  visiting them, describing his visit as a mission of love. They also rained accolades on him  over his  accomplishments as the Chief Shepherd of the Archdiocese. The Catholic community also extolled the parish priest Rev Msgr Theophilous Odukwe for moving the parish to an unprecedented height.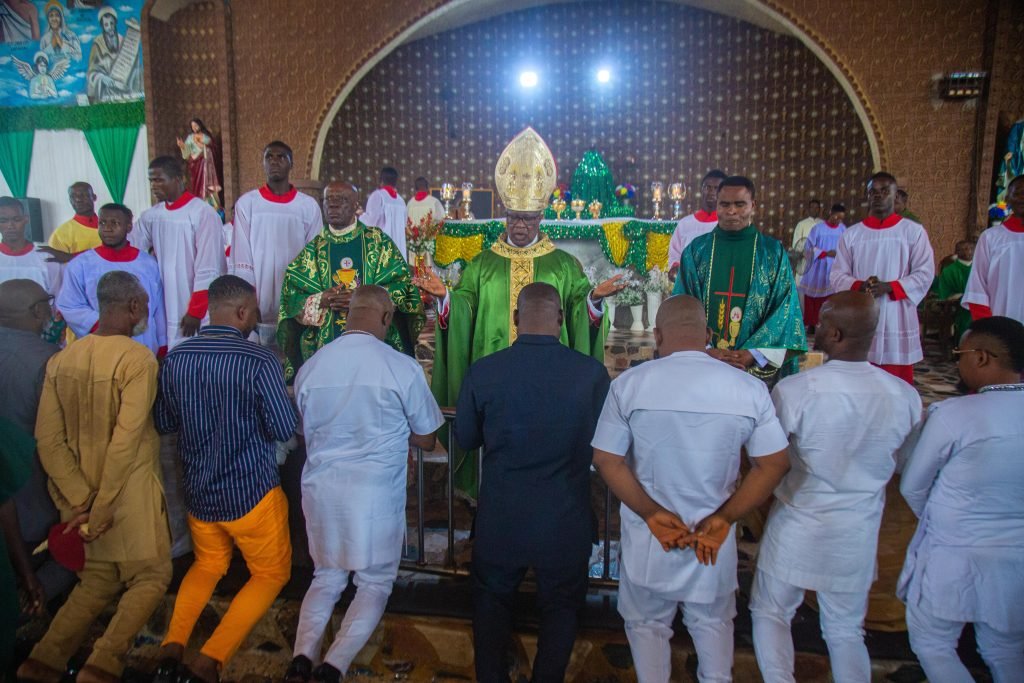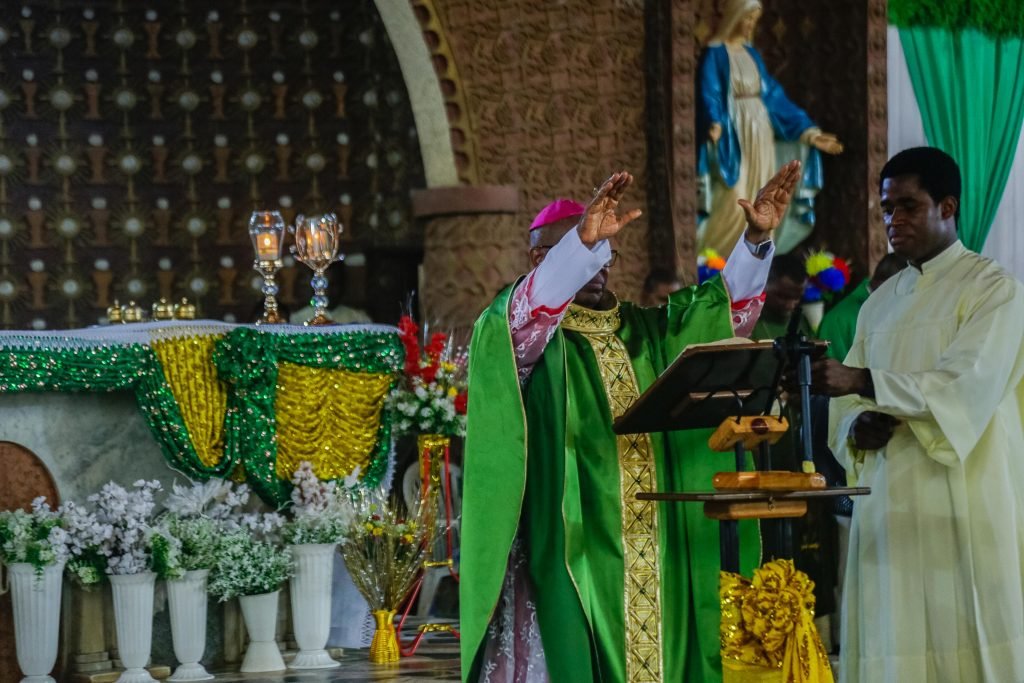 The parish priest Msgr Odukwe in his remarks,  appreciated the Archbishop for visiting them, describing  him as a good  Chief Shepherd by every definition. He also thanked the parishioners for their sacrifices and show of faith. 
The parish vicar Fr Joshua Chukwubuikem Obiekezie while fielding questions from the press said they are elated over the visit of the Archbishop, describing his presence as source of inspiration to the parishioners. He also described the parish priest Msgr.Odukwe as an exemplary priest whose spirituality and charity life is a gospel to others. He also hinted their plans to celebrate the golden jubilee of the existence of the parish next year.
The vice chairman parish council Sir Charles Ezeokafor and the secretary Amaka Ononuju who spoke to Trinitas correspondent expressed their joy over the visit of the prelate, asserting they have been lifted spiritually. They also testified that their parish has become a miracle ground and their spiritual life has been revived since arrival of Msgr Odukwe, disclosing that he is putting his own personal money towards developing the parish, adding that he is constantly feeding the needy in the community and beyond. One of the Catechists of the parish Vincent Ozonnamalu in his contribution urged fellow parishioners to take home the message of the prelate and never relent in their zeal to serve God.