By Christian ABURIME
Governor of Anambra State, Professor Chukwuma Charles Soludo has flagged-off the construction of a flyover bridge in Ekwulọbịa.
Also flagged-off for construction in the location are adjoining roads, a modern bus terminal, a fuel station, a security building, a fire station, among others.
The Contract is being handled by Engineer Elias Tanios of AG Vision Construction Ltd.
Governor Soludo noted that the Contractor had publicly acknowledged receiving a 30% upfront mobilization for the project.
Governor Soludo reiterated that Ekwulobia is the capital of the Old Aguata Union and for that reason development will start in the city, as well as other towns that include Oko, Umunze, Nawfija, Ufuma, Ezira, Enugu Umuonya, etc.
He explained that the proposed flyover will ease traffic for people driving from Awka to Uga, Achina, or Imo State.
The Governor re-emphasised again that Anambra is an "A" State, and all the road projects being undertaken by the government are of the highest caliber, with a minimum 20-year warranty.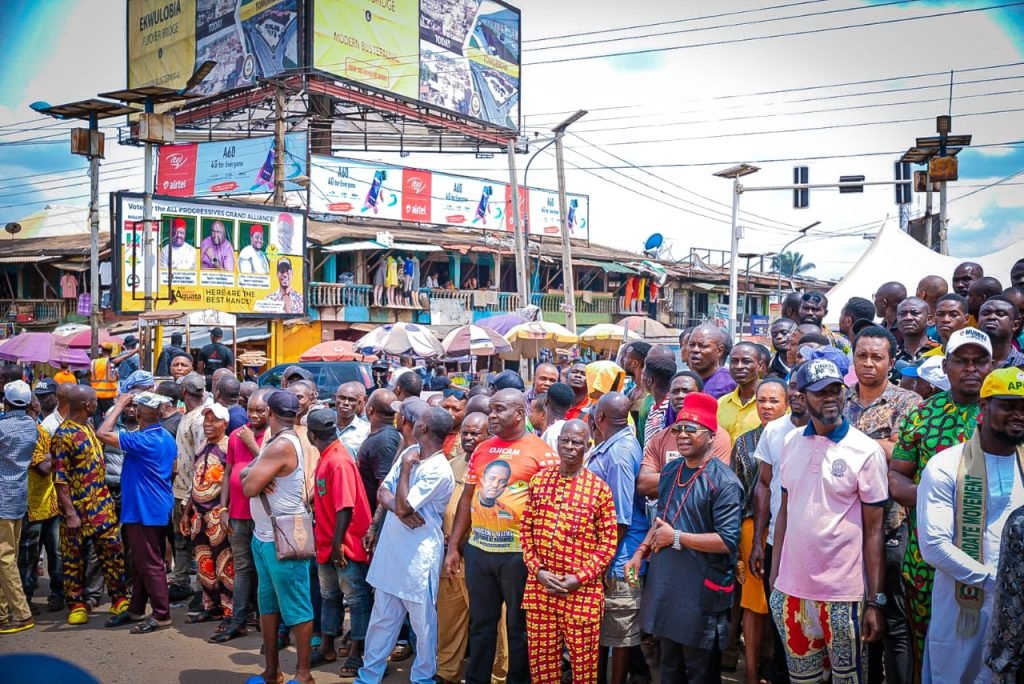 "Repairs of vehicles will decrease if standard roads are constructed throughout the state", the Governor added.
The Governor used the occasion to remind the public to cast as many votes for APGA on Saturday, announcing that the project would be completed in 18 months time.
He called on ndị Anambra at home and in the diaspora to participate in the upcoming national census in May this year.
Welcoming the Governor earlier, the Transition Committee Chairman for Aguata Local Government Area, Prince Chibueze Ofobuike said that the flyover befits the town, asserting that in Aguata and OAU generally, Governor Soludo's arrival marks the beginning of bigger things to come.
For the Commissioner for Works, Engr. Ifeanyi Okomma who stated that Ekwulobia is a Federal road, explained that the proposed flyover from Nanka to Uga will be 300 meters long and 5.4 meters tall.
He revealed that a contemporary bus terminal and a fire station would both be constructed in Ekwulobia, saying that the project contractor, AG Vision, is well known across the Country for building bridges.
Wife of the Governor, Mrs. Nonye Soludo, Chief of Staff, Mr. Ernest Ezeajughi, Special Adviser to the Governor on Pharmaceuticals, Mr. Nnadozie Godwin, Deputy Majority Leader, Anambra State House of Assemby, Hon. Emeka Aforka, TC Chairman, Orumba North, Sir Ogo Ekwueme, TC Chairman Orumba South, Prince Neville Uchendu, Managing Director, Housing Corporation, Hon. Chike Anyaonu, APGA Stakeholder in the area, Chief Titus Anigbogu, Nze Henry CP, PG of Aguata, Mrs Anthonia Ekwegbele, Woman PG Aguata, Acting PG Ohanaeze, APGA Federal House of Representatives Elect, Engr Dom. Okafor, Tony Muobike, APGA Candidate, Aguata II Constituency among others attended the event which also featured handover of the site certificate to the contractor