By Jude Michael
Governor Chukwuma Soludo of Anambra State has restated his resolve to transform Awka to a befitting capital city. He stated this during an inspection of the ongoing construction of the Umuogbu Village flood control infrastructure and other ongoing road projects in Awka South Local Government Area. The projects are expected to be completed this year.
The roads inspected are Unizik–Okpuno–Isuaniocha Road, Club Road, Roban Road, Regina Caeli Road, and NECO Road, among others, totaling 14.85 kilometres.
Speaking after the inspection, Governor Soludo said he was determined to transform Awka and asked for the stakeholders' support and cooperation.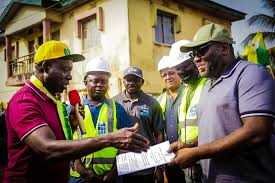 The governor maintained that he would continue to deploy the resources of the state in a systematic and strategic manner to have a direct impact on the people.
He thanked the people of Awka South for their support that led to his emergence and asked them to replicate such in the coming elections by voting for all candidates of the All Progressives Grand Alliance (APGA).
The commissioner for works, Engr. Ifeanyi Okoma, said during the inspection that the projects would be delivered within the time frame and according to specifications.
APGA candidates who joined the inspection, including Hon. Dozie Nwankwo for the Anambra Central senatorial district, Mr Obi Nwankwo for the Awka North and South federal constituency and Mr Igwedimma Nwofor for Awka South Constituency I, also addressed the crowd that came to receive the governor, promising effective representation while soliciting their support.
They assured effective collaboration with Governor Soludo to ensure that Anambra got the best.
The transition committee chairman of Awka South Local Government Area, Mr ThankGod Anagor, thanked Governor Soludo for his commitment towards bringing a reform that would change the face of Awka and Anambra State at large and promised the support of the people of the area.
The traditional ruler of Awka, Obi Gibson Nwosu, and his Okpuno counterpart, Igwe Sunday Okafor, prayed to God to grant the governor good health and wisdom to continue with his job in the state.
Also present at the event were the chief of staff to the governor, Mr Ernest Ezeajughi; the executive chairman of the Anambra State Health Insurance Agency (ASHIA), Dr Simeon Onyemaechi; and an APGA chieftain, Chief Obi Ochije Muodilim, among others.