By Ononye VC
The Archbishop of Onitsha most Rev Valerian Okeke last Friday buried the remains of his sister in-law,lady Getrude Chuma Okeke after a funeral mass at the Blessed Iwene Tansi Parish,Umudioka,Anambra state.
Rites of passage for lady Okeke began with Office For the Dead by the knights and ladies of St Mulumba and a vigil mass where in his homily,the Auxiliary Bishop of Onitsha,most Rev Denis Isizoh spoke glowingly about the deceased.
At the burial mass on Friday where Archbishop Valerian Okeke was the Chief Celebrant,,the parish priest of Blessed Iwene Tansi Catholic Church,Umudioka, Rev Fr Emmanuel Obimma(aka Ebube Muonso) in a remark,welcomed the huge sympathisers which included hundreds of priests,religious,knights and ladies and expressed condolences to Archbishop Valerian Okeke for the loss of his sister in-law.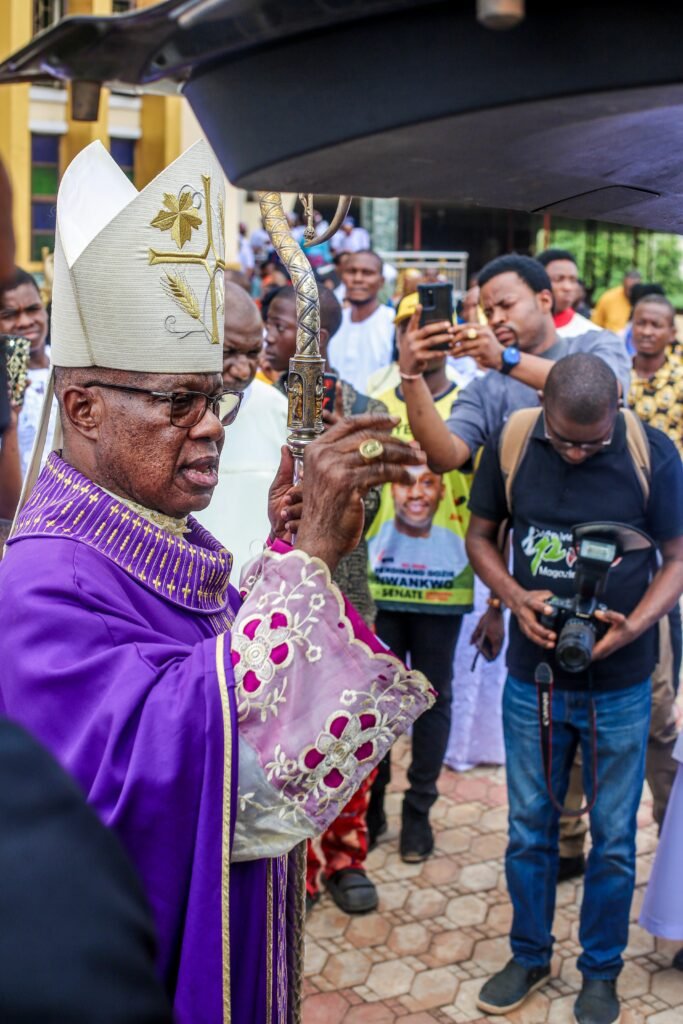 In his homily,the Episcopal Vicar of Dunukofia Region,Rev Fr Aloysius Ikekwe described the late Lady Okeke as a lady of faith who was not only a virtuous woman but a loving mother whose gentle nature endeared her to all.
The Archbishop in a brief remark,thanked the sympathisers and others who came to commiserate with the family.
Chancellor of the Archdiocese,Very Rev Fr Prudentius Aroh also thanked the sympathisers for making out time to attend.
The prayer of final commendation was said by Rev Fr Felix Chukwuma.
Late Mrs Getrude Chuma Okeke(Nee Ibeneme) was born in 1947 to the family of Okoro Ibeneme of Umuagi in Ihioma,Orlu local government Area of Imo State.
She was described as hospitable and a devoted member of the Catholic Women Organisation (CWO) and ladies of St Mulumba.
Some of the dignitaries present include the Igwe in council of Umudioka,ex governor Willie Obiano represented,Labour Party Anambra Central Senatorial Candidate,Sir Victor Umeh,Hon Dozie Nwankwo and Hon Humphrey Iloh.
Others are,Mother General,Immaculate Heart Sisters (IHM) Mother Claude Oguh,CWO President General lady Ngozi Nwanosike,CWO President General Sir Evarist Uba among many others.
May her soul rest in peace.