By Nna Anulumadu
Joy rented the air last Friday, March 31st 2023 at Awka as Independent Electoral Commission INEC, Anambra State issued out certificate of return to the newly elected state house of Assembly members.
The thirty elected house members were all present to receive their certificates of return.
In her speech shortly before issuing out the certificates, the Anambra State Electoral Commissioner REC Dr, Queen Elizabeth Agwu congratulated the legislators elect stating that their victory came on merit as state INEC was not lobbied or bribed to produce any of the winners.
She stated that the good people of Anambra State should have good reasons to commend INEC over huge success recorded during the said election, insisting that even if INEC performed below expectation in any other state, INEC conducted free and fair elections in Anambra, adding that Anambra people are blessed . Her words: " No body manipulated us and Anambra INEC didn't collect any money from any candidate and that was why we succeeded in giving the best to the state."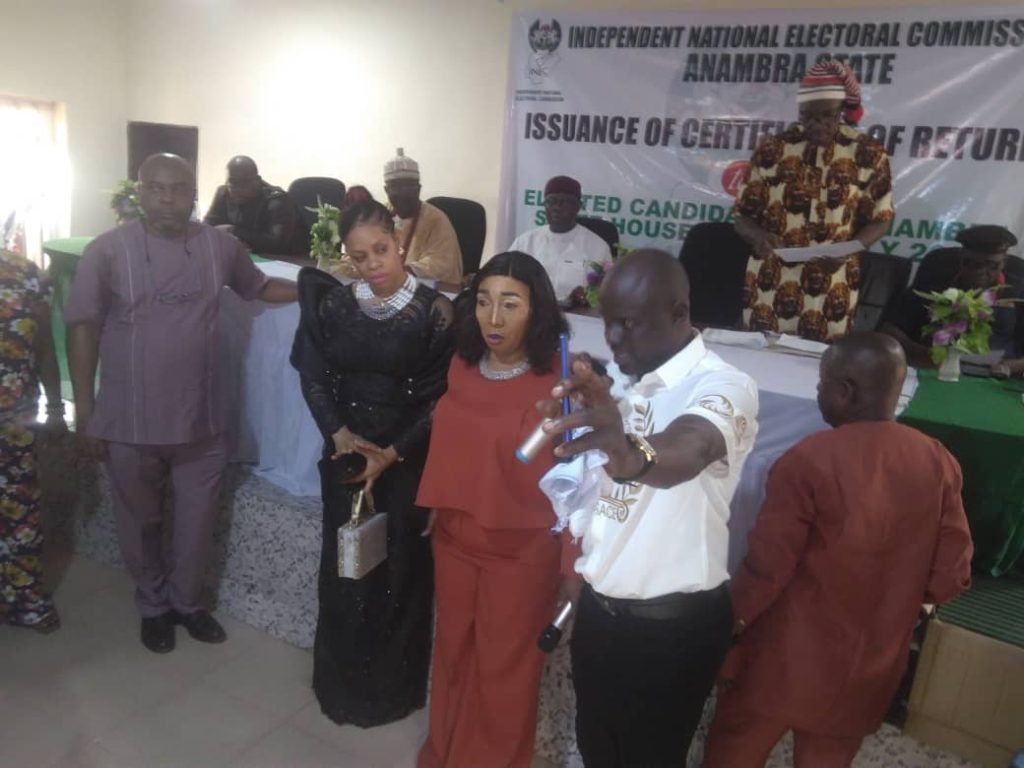 Dr Agwu further thanked Anambra traditional rulers, Church leaders and other stakeholders for collaborating with INEC to ensure credible election, charging them not to relent in subsequent elections.
The REC further charged the newly elected house members to use the constituency funds effectively and never abuse the confidences and trust electorates reposed in them. " Always remember the people who voted for you and help to transform their environment through making laws capable of changing lives. Give scholarships to the less privileged children. If you refused to give back to the society, God won't be happy with you , because of your unnecessary selfishness and stinginess."
Also speaking, INEC national Commissioner supervising Anambra State, Barrister Fetus Okoye who represented INEC Chairman Prof, Mamood, poured encomiums on the REC for conducting the most free and fair elections in the state, stating that Anambra INEC led by Dr Agwu really performed excellently well. " Democracy is an ongoing process and cannot finish so as INEC, enjoining Nigeria citizens to always give INEC the chance to succeed in her conduct of elections and shun any act that may drag the image of the commission to the mud or bring INEC down. He charged the house members elect to carry the members of their constituents along and make laws that will change a lot of narratives in the state. "People are looking up to you to bring peace to communities and transformation through the laws you will make".
Some of the house members elect including Barr Ebuka Igwe (Idemili South Constituency) Hon Chukwuebuka Golden Ilo ( Ihiala II Constituency) and others who spoke to the press in their separate remarks commended Anambra INEC for a job well done. They also praised the REC Dr Queen Elizabeth Agwu for her transparent leadership that made the said elections free and fair.